With so many online radio stations available, selecting your preference should be simple. Below is a list of the best online radio stations I have hand-selected for various genres.
I analyzed dozens of these websites to determine the best options in various genres, so you'll find country music, instrumental music, and a station ideal for party music, among others.
Each selection choice features music chosen by one or more DJs, similar to a conventional radio station. Some are online feeds of the same radio program broadcast locally by the station.
Digitally Imported, now known as DI.FM debuted in 1999 as an internet radio service that streams 24/7 electronic music. A group of curators selects the best music from each genre or style.
In addition to the most popular channels, you can choose from the following subcategories: trance, EDM, dance, house, lounge, chillout, techno, bass, ambient, deep, classic, vocal, complex, and synth. The last time I streamed music from this website, I listened to the LoFi Lounge & Chill station, which was ideal as background noise.
You can subscribe to any channel to add it to your favorites list for subsequent access.
If you're a paying user, you can alter the audio quality, listen to external players via a playlist file, skip more tracks, and access premium-only stations. Create an account for free to like and disfavor songs.
✅Benefits:
Dozens of stations to choose from.
Skip one track per day.
Also available through their app.
❌Drawbacks
Some streams are for premium users only.
You must make a free account after 30 minutes of listening.
Ads and lower-quality audio for free users.
Relax FM is a Moscow, Russia-based online radio station that broadcasts instrumental, English, and foreign music.
There are numerous channels to choose from, including, among others, Relax Life, Relax Nature, Relax Latino, and Relax lo-fi. True to its moniker, I find it highly relaxing, mainly when performing repetitive tasks such as cleaning.
While it is accessible online from anywhere, including the official Relax FM website, it is also broadcast locally on 90.8 FM and other stations in Moscow.
The following applications are from radio.net, as the official Relax FM apps are only available in Russian. This radio station can also be streamed from radio.net.
✅Benefits:
Amazing curated selection.
It's a great place to find new chill music.
Plays relaxing versions of popular music.
Browse through the stream playlist.
❌Drawbacks
The site is partially in Russian.
Occasional streaming issues.
WLTW 106.7 Lite FM, owned by iHeartMedia and frequently the most popular radio station in New York, broadcasts various music from the present day to the 1980s. This is my go-to option when unsure of what I'm craving.
This station plays dance, pop, rock, disco, R&B, punk, new wave, and other genres by artists and groups such as Wham!, George Michael, Jennifer Lopez, Christina Aguilera, Camila Cabello, Tears for Fears, Prince, Duran Duran, Cutting Crew, and No Doubt.
If you like a recently played song on the radio station WLTW 106.7 Lite FM, you can create your own station based on that genre of music and even pause songs, unlike on the radio.
A subscription to iHeartRadio allows you to replay radio songs, save radio songs to your own playlist, and more. I frequently use the free version and never feel like I'm missing out on any features.
✅Benefits:
Includes lyrics to some songs.
Provides a full-screen experience.
❌Drawbacks
Cluttered website.
Large ads.
This internet radio station from SomaFM is one of the best methods to discover new indie music. The DJs hand-select the best indie songs they can locate and make them available via your browser or preferred media player.
I've heard music from Amanda Cadore, Alvvays, Aloha, Polica, Carroll, Paranoids, Violents Monica Martin, Beck, and Neko Case, among others.
I appreciate that the Indie Pop Rocks station displays all the artists they've played in the last two weeks so I can see which artists were played more than others and get a link to their Amazon tracks. Additionally, there is a list of recently played songs for an indication of the content.
You can also add songs to a list of your favorites, from which they can be readily purchased.
If you're not into indie music, several other channels are available. This includes holiday music, ambient electronic and experimental space music, classics from the early 2000s, and others.
This internet radio station can be broadcast via the web and mobile and desktop applications. If you prefer the TuneIn app, listen to SomaFM Indie Pop Rocks!
✅Benefits:
Commercial-free radio station.
Multiple ways to listen.
It shows several recently played songs.
The browser player includes a sleep timer.
❌Drawbacks
Uninteresting website design.
This is quite clever! You'll adore this radio station if you're accustomed to purchasing soundtrack CDs for your beloved movies. Since it is ad-supported, it is completely free and only contains music from movies and television programs.
Cinemix features music from numerous films and television programs, including Supernatural, Bicentennial Man, Lost, Guardians of the Galaxy, Call the Midwife, Last Chance Harvey, and War for the Planet of the Apes.
The current song, the three upcoming songs, and several recently played songs are enumerated.
As a VIP member, you can view the 20 most recently played songs instead of just a few, dedicate and request songs, and more.
Read More:  5 Best Free Music Streaming Sites: Enjoy Music Anytime, Anywhere
✅Benefits:
Shows the movie or series the song is known from.
Purchase links are available.
It lets you listen from a browser or mobile app.
❌Drawbacks
Plays mainly orchestra music.
Infrequent app updates.
KEAN 105.1 FM, based in Texas, is the finest internet radio station for streaming country music. They have several DJs who select the finest country music for you, and their website lists all the upcoming shows for the week.
Kenny Chesney, Kane Brown, Maren Morris, Rodney Atkins, Jake Owen, Thomas Rhett, Blake Shelton, and Keith Urban, among others, are featured on KEAN 105.1 FM. See what has been played recently for inspiration.
Some internet radio stations play in a distinct section of the website so that the music continues when you navigate to other pages, such as to view upcoming shows or recently played songs. To accomplish this, you must launch the pop-out player.
✅Benefits:
Runs on a web browser or mobile device.
Lists dozens of recently played songs with links to buy tracks on Apple Music
❌Drawbacks
Must use the pop-up player to avoid stopping the music when you browse other areas of the site.
Pop-up ads are displayed elsewhere on the page.
Listen to Kean 105.1 FM Online
K-LOVE, which began broadcasting exclusively Christian music in the early 1980s, is now one of the most listened-to online radio stations globally. It is also broadcast via FM radio in several U.S. cities.
Millions of online listeners can hear music from MercyMe, Rend Collective, Zach Williams, Francesca Battistelli, Skillet, KING & COUNTRY, Chris Tomlin, TobyMac, Micah Tyler, and Lauren Daigle each week.
In addition to the live broadcast, the website features several other channels focusing on Christmas, the '90s, and 2000s music.
The K-LOVE mobile app only displays four of the most recently played songs, but it also includes a Verse of the Day page and information on each of the radio station's featured artists.
✅Benefits:
Displays recently played songs.
Provides links to buy songs.
Shows lyrics for recent tracks.
Includes briefs on local and national news.
Artist info is shown in the browser player.
❌Drawbacks
Often, there is lots of talk between songs.
Radio Santa Claus is based out of Santa Claus Village in Finland, where Santa is present throughout the year, and thousands tune in every day to listen to Christmas music.
Frank Sinatra, Colbie Caillat, Bob Dylan, Elvis Presley, Blake Shelton, Dean Martin, Sara Bareilles, Andrea Bocelli, and children's choirs are represented here.
The Android app is even more straightforward than the website. You can start and stop the live stream, view the presently playing track, and leave a comment for other listeners to view.
✅Benefits:
Includes modern Christmas music.
Puts you in the Christmas mood with a live video feed from Santa Claus Village in Finland.
You can leave images and comments for other listeners to see.
❌Drawbacks
Listen to Radio Santa Clause Online
My House Radio has a straightforward mission: to promote dance music producers in genres such as house, deep house, soulful, and classics. They have over forty DJs from all over the globe.
It is a remarkable radio station for dance music because there are never any commercial breaks. Additionally, you can listen day and night.
When I'm listening on my phone, I prefer to use the stripped-down player (here) to avoid extraneous graphics and web pages. You can also listen to My House Radio on Airtime, which has a reasonable user interface. The identical radio station is accessible via TuneIn and other streaming services.
✅Benefits:
Strong focus on just a few genres.
24/7 streaming without website ads or commercial breaks.
Provides a 7-day schedule.
❌Drawbacks
Some parts of the website don't work.
No official mobile app.
Doesn't show individual track names.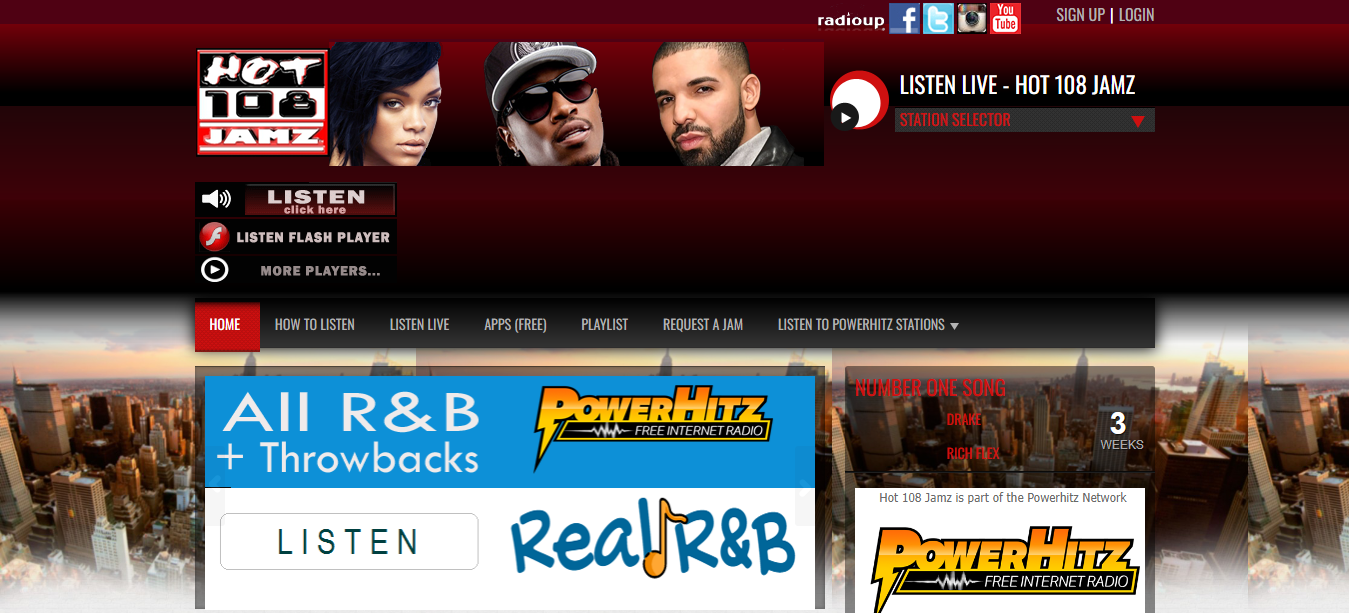 As part of the Powerhitz network of internet radio stations, Hot 108 JAMZ broadcasts hip-hop music. This station's music is curated by a different program director daily, although this network includes other stations that do not focus on rap music.
During my most recent listening session, I heard Rihanna, Drake, 2 Pac, Lil Donald, Meek Mill, Alicia Keys, Lil Wayne, DJ Khaled, Mariah Carey, Usher, 50 Cent, The Carters, and Rich Gang.
Hot 108 Also accepted by JAMZ are shout-outs and song requests.
This online radio station is accessible through TuneIn, radio.net, Streema, and Radioline. Other features, such as a sleep timer and "favorite" option, are available if you listen from one of these applications or websites.
✅Benefits:
It shows the five most recently played songs.
Chat with other listeners.
Songwriters can submit their own music.
Lists recent tracks.
You can purchase music from Amazon and Apple.
Several places to listen from.
❌Drawbacks
Includes commercials.
It's an obnoxiously cluttered website with lots of ads.
FAQs
It's live and for free. At radio.net, you will find over 60,000 radio stations from all over the world.
2. What are the top 10 FM radio stations?
DI.FM
Relax FM
WLTW 106.7 Lite FM
SomaFM
CineMix
Kean 105.1 FM
K-Love
Radio Santa Clause FM
My House Radio
Hot 108 Jamz
3. Which FM band is best?
If you want everyone, or at least as many people as possible, to hear your show, use the 88–108 MHz band. This is where all commercially made radio receivers and broadcast radios work.