Tesla Charging Network Almost any gas or diesel fuel pump is easy for people to use to fill up their tanks. A lot of things can go wrong for E.V. use
Tesla Charging Network
Almost any gas or diesel fuel pump is easy for people to use to fill up their tanks. A lot of things can go wrong for E.V. users. That's because electric cars have a number of different charge ports, ranging from the strange CHAdeMO port to the more popular Combined Charging System (CCS) port and Tesla's own North American Charging Standard (NACS) port.
A lot of people think that Tesla's NACS charge port and its big network of superchargers are the best. It looks like other automakers are ready to make Tesla's system the industry standard. Ford was the first company to agree to work with Tesla and use the NACS plug in May 2023. Other car companies have recently announced deals with Tesla like dominoes falling. SAE International, a technical group, also said that it would make the NACS connector standard.
Other car companies and charging networks are likely to use Tesla's plug, so we made a list of them, and some that we've heard are in talks to join. We'll add new agreements to this list as they become official or as we learn of more possible deals.
Car brands that have agreed to use Tesla Charging Network
BMW
BMW has agreed to use Tesla's NACS charge port starting in the early part of 2025. This plan includes Mini and Rolls-Royce, which are both owned by BMW. With an adapter, existing EVs with a CCS-type port will also be able to use Tesla's network of superchargers. BMW says it is working on adding a way to pay for charging through an app in the car and making the navigation system lead you to Tesla chargers.
Fisker
Fisker and Tesla have agreed that Fisker will use Tesla's NACS charge port starting in 2025. The new E.V. car company is mostly unknown to most people, but the Fisker Ocean EV SUV is the first product from the company's relaunch. To follow, by the end of 2025, the 1000-hp Rnin, the sub-$30K Pear, and the useful Alaska truck will all be electric cars.
Read More:  Plug-in Hybrid Electric Vehicles: 7 Things You Need to Know
Ford
Ford EV drivers will be able to use the Tesla charging network starting in the spring of 2024. The Ford F-150 Lightning and Mustang Mach-E both have a CCS-type charge port, but they can connect to Tesla's fast chargers with an adapter. Ford says that all of its new electric vehicles will come with a NACS plug by 2025.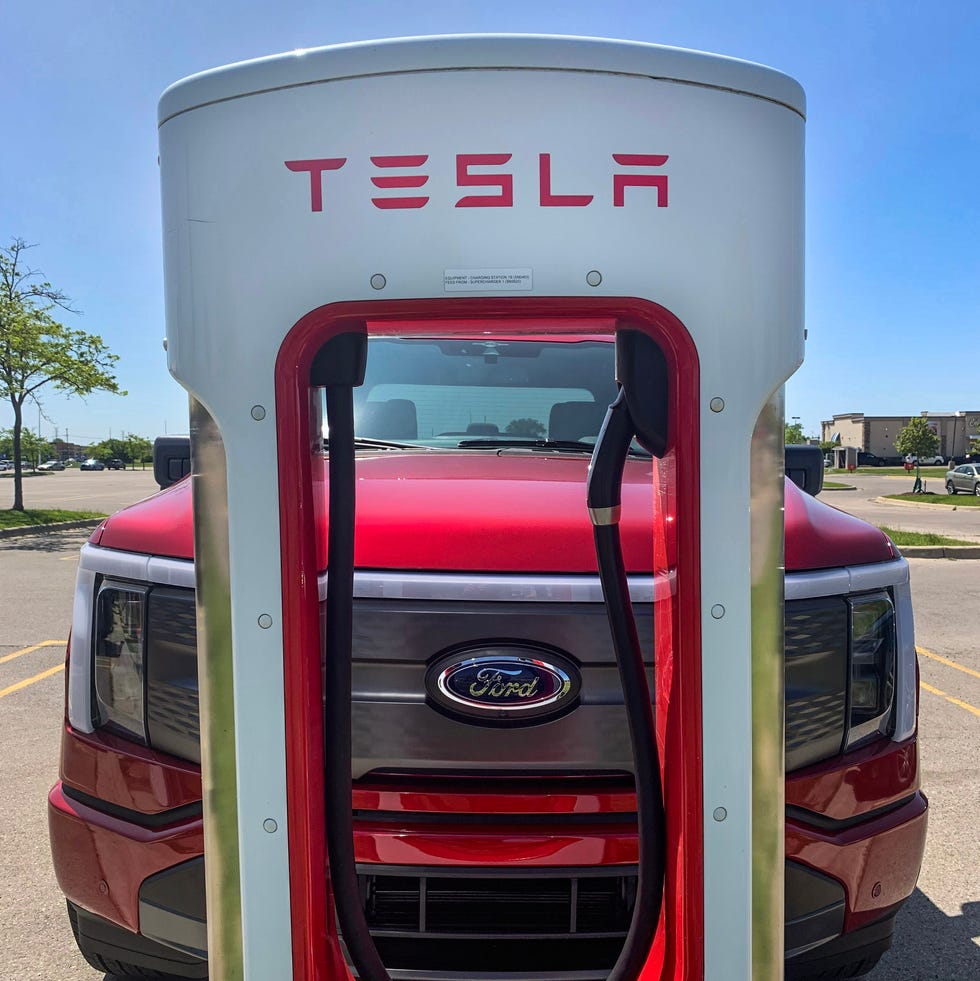 Genesis
Genesis Motor North America said on October 5, 2023, that NACS would be the only charge port for its electric vehicles (EVs). This will begin in the U.S. in late 2024 and in Canada in 2025. Genesis said that starting in the first quarter of 2025, people who own Genesis EVs with the CCS port will be able to use an adapter to charge their cars at Tesla Superchargers. Genesis will also sell adapters so that people who own vehicles with NACS can set them on CCS devices.
GM
GM was the second car company to sign a deal with Tesla to use its charging port. With an adapter that lets their CCS ports work with NACS, G.M. EV drivers will be able to use Tesla's Superchargers starting in 2024. As of 2025, G.M. will put NACS on all of its electric vehicles. The company also said it would sell adapters so models with NACS could connect to chargers that use CCS.
Honda
Honda has decided to use the Tesla charge port, making the number of automakers that have done so grow. The company said that starting in 2025, all of its new electric cars will have the NACS plug. Honda also said it would make an adapter for its E.V.s with CCS so that they can work with the Tesla charge network.
Hyundai
Beginning in the fourth quarter of 2024, Hyundai said in October 2023 that it would add the Tesla NACS charge port to new or updated electric vehicles. Hyundai will also sell an adapter to E.V. drivers who already have a car but don't have NACS ports. People who buy cars with NACS ports will also get adapters that make those cars work with CCS charging points.
Jaguar
In September 2023, Jaguar said that starting in 2025, its new electric vehicles will be able to connect to the NACS. The business also says it will get adapters from Tesla and give them to I-Pace users so they can use Superchargers to charge as well.
Kia
Kia America said on October 5, 2023, that the NACS port would be built into all new E.V.s sold in North America starting in the fourth quarter of 2024. Starting in early 2025, Kia stores would be able to sell CCS-to-NACS adapters. The 2015–2019 Kia Soul E.V. is the only one that doesn't use CHAdeMO charging. Once a "forthcoming" software update is finished, Kia EV owners will be able to use the Kia Connect app to find Tesla Supercharger stations, the car company said.
Lexus
From 2025 on, all electric Lexus cars will come with a NACS charge port, which is Telsa's plug. This means that the brand's electric vehicles will be able to use the Supercharger network across the country. Lexus, like the other car companies that have agreed to this, says that models with a CCS-type port will be able to use an adapter to work with NACS plugs.
Lucid
According to Lucid, starting in 2025, all of its new cars will have Tesla's own NACS charge port. Another thing the company said was that present Lucid models with a CCS-type port will work with an adapter that lets them charge at Tesla Superchargers as well.
Mercedes-Benz
Mercedes-Benz is the first German car company to say it wants to use Tesla's NACS charge port. Starting in 2025, all of its electric models will come with a plug. The company also says that sometime in 2024, it will sell an adapter for its CCS-equipped models that will let buyers use Tesla's Supercharger network. Mercedes also wants to build its charging network in North America. The goal is to have more than 2500 fast chargers. The first ones should be here in the last few months of this year. These chargers will work with E.V.s that aren't Mercedes as well.
Mini
Because BMW agreed to use Tesla's NACS charge port, starting in early 2025, all new electric Minis will come with the plug. It will be around the same time that current Mini EVs with the CCS-type port will also be able to use Tesla's supercharger network with an adapter.
Nissan
Nissan is the first Japanese car company to say it will use Tesla's NACS charge port. Starting in 2025, the company will do this in the U.S. and Canada. Nissan is likely to release an adapter for the Ariya SUV sometime in 2024. This will let it connect to Tesla's Supercharger network since it has a CCS-style port.
Polestar/Volvo
Polestar and Volvo are the first car companies from outside of China to work with Tesla. From 2025 on, all of the Swedish names that Chinese companies own will come with the NACS port. In the first half or middle of next year, Tesla will give an adapter for their CCS ports that will work with Tesla's Superchargers. Other companies will also do the same. For those who require a NACS-to-CCS device to connect to a charger that is not a Tesla product, Polestar and Volvo will also sell it.
Automakers Reportedly in Talks with Tesla
A report from Reuters says that Stellantis executives have stated that the company is thinking about using Tesla's charging port. But an official deal hasn't been made public yet. Chrysler, Dodge, Jeep, Maserati, and Ram are all car brands that are part of Stellantis in the U.S. market.
Volkswagen
Reports from Reuters say that Volkswagen is thinking about working with Tesla. The automaker's choice to use a NACS port is expected to have an effect on other brands it owns, such as Audi, Bentley, Bugatti, Porsche, and Lamborghini in the U.S.
Charging Networks Adopting NACS
Along with the automakers who have announced agreements with Tesla, some public charging networks have also inked deals to offer the NACS connector at their stations.
ChargePoint
ChargePoint has said that it will add charging outlets with the NACS-type plug. But the company hasn't said when exactly that will happen; they've only said "soon." ChargePoint also noted that it would keep selling different kinds of charges.
Electrify America
There is news that Volkswagen Group-owned Electrify America will also use Tesla's NACS connector. The network that charges cars said it would have the new plug at its stations by 2025. Aside from that, it will still offer unique pins.