Regarding functionality, the ChatGPT web application does not honor the AI's power. The primary interface consists of a text field and a send icon; it
Regarding functionality, the ChatGPT web application does not honor the AI's power. The primary interface consists of a text field and a send icon; it doesn't get much simpler than that!
For such a popular app, I would expect at least some accessibility features, such as speech-to-text or a copy button, to be included. The application is still in its infancy, so I'll give them time to develop.
However, this does not obligate us to use this limited application. Numerous new Chrome extensions have emerged that add lacking features to the ChatGPT web application and integrate ChatGPT capabilities into your web browser.
Below, I have compiled a list of Chrome extensions for ChatGPT that will undoubtedly fill the holes OpenAI missed.
Note: To Use this Chrome Extensions, You Must log in to the ChatGpt Account.
1. ChatGPT for Google
ChatGPT for Google lets users view ChatGPT responses directly within Google Search and other prominent search engines. The extension displays a ChatGPT response on the right-hand side of the search results.
You can configure it to generate only when you click the extension or add a question mark to the end of the query. In addition, the ChatGPT web app (free) and the official OpenAI API (paid) can be used to obtain the responses.
2. HIX.AI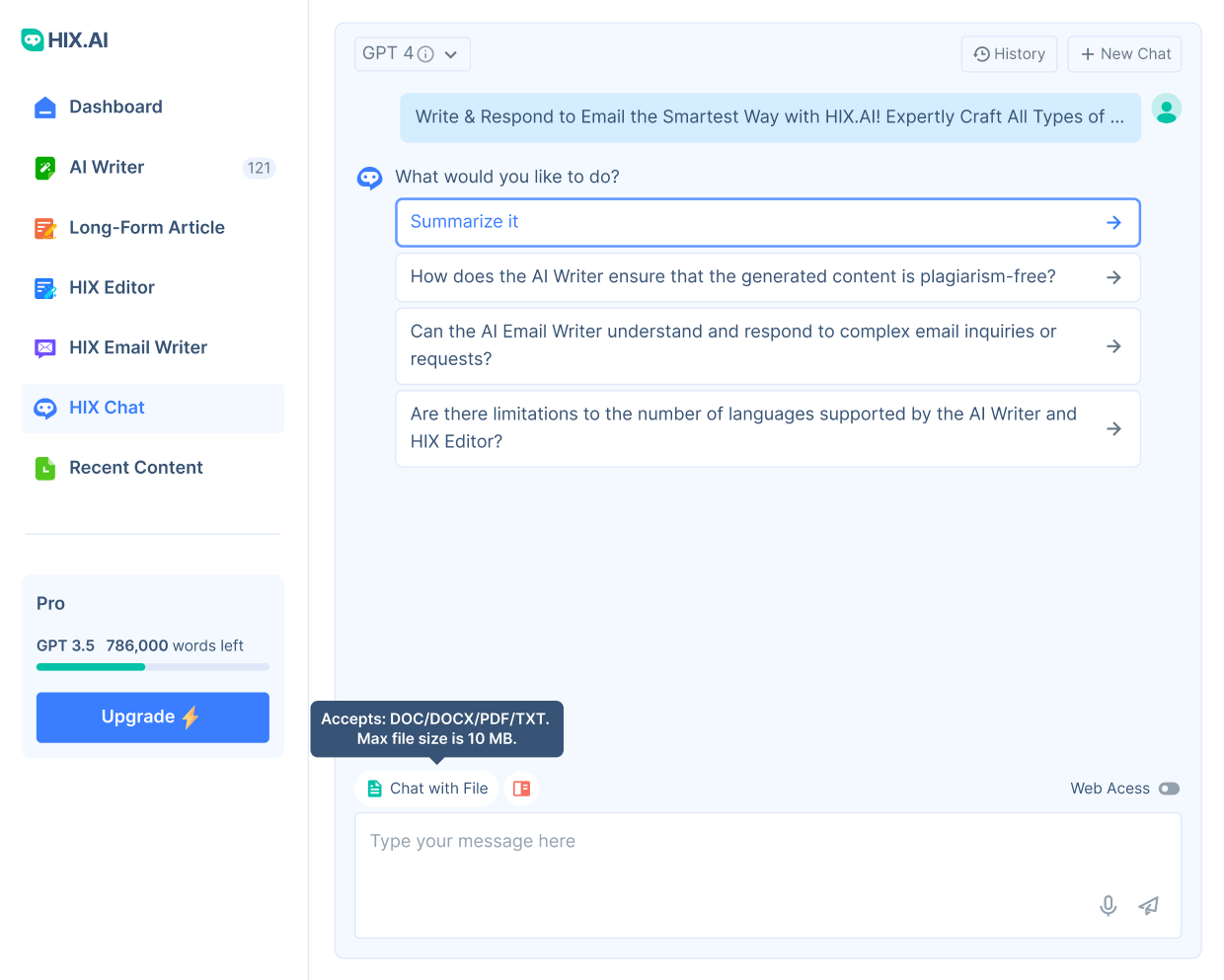 HIX.AI is an all-inclusive AI writing assistant designed to assist you throughout the writing process. Its All-in-One Chrome Extension is a helpful web-based assistant for various duties, acting as a convenient copilot.
This Chrome extension is compatible with multiple platforms. It integrates with social media platforms such as X (previously Twitter), Instagram, Facebook, Quora, Reddit, etc., allowing you to generate compelling social media posts or comments simply by typing //.
In addition, it improves the writing experience in Google Docs by enabling AI-powered features similar to those in Notion AI. This extension makes composing engaging emails and constructing personalized responses in Gmail a breeze. Type//, and the AI copilot will control the Pavilion.
In addition to producing AI-generated content, this Chrome extension provides invaluable assistance for enhancing your writing. Selecting any text in your browser and accessing its fast lookup bar allows you to rewrite, summarize, and perform additional valuable functions.
The HIX All-in-One Chrome extension includes a sidebar with over 120 AI writing tools and intelligent AI communication functionality. Notably, their chatbot is powered by GPT-3.5/4 with web access that exceeds ChatGPT to ensure you receive accurate and current information.
The most significant aspect of this Chrome extension is its free use.
Read: 7 Best Ways to Make Money From ChatGPT
3. ChatGPT Writer
Create well-written emails using ChatGPT Writer directly within your preferred email client. This extension is specially configured to make ChatGPT compose long and convincing emails in a professional tone.
You can either provide it to your previous conversations to comprehend the context and compose a response or explicitly include topic-specific information in a new email. The extension automatically formats the email and leaves blank fields for information it cannot generate.
In my experience, each communication was detailed and comprised at least four paragraphs. The email tone is also not an issue; you can always instruct it to write in the desired manner.
4. WebChatGPT
Due to its discontinuation in 2021, ChatGPT's limited knowledge is one of its most significant drawbacks. This issue is partially resolved by WebChatGPT, which forces ChatGPT to source its responses from the top search results.
The extension adds new icons to the ChatGPT web application to configure how you receive the most recent information. You can modify the quantity of results, the time frame, and the region. Additionally, it is configured to provide detailed responses to each query.
It cites sources for everything it writes, so you can determine whether the information originates from a reliable source.
5. Superpower ChatGPT
Even though Superpower ChatGPT adds multiple features to the ChatGPT application, I'm primarily including it here for the in-app prompts. The extension has hundreds of constantly updated prompts that cause ChatGPT to behave in various ways.
These prompts contain editable information that informs ChatGPT precisely what information you require and how it should be presented. You only need to include the prompt and query to receive tailored results. Listed below are some examples of possible uses for these prompts.
Make ChatGPT act as a comedian.
Write poetry.
Write essays.
Act as a specific TV character.
Act as a doctor to diagnose you using your symptoms and even get medication recommendations.
Act as a hypnotherapist.
Get help with finding your career based on your skills.
Get DIY ideas.
It adds options such as history, export button, copy button, word count, time markers, and prompts. ChatGPT Prompt Genius is a valuable extension if you want to use custom prompts.
6. YoutubeDigest
YoutubeDigest utilizes ChatGPT to summarize YouTube videos through automatically generated transcriptions concisely. A bulleted list, paragraph, or article will be displayed on the right side of each video. In the settings, you can alter how the summary is shown.
The extension will add a "Summarize" icon next to the like/dislike buttons, which can be used to generate a summary. There is also the option to create a resume for each video played.
Try YouTube Summary with ChatGPT as an alternative. A similar extension displays the video's full transcript, which you can open in the ChatGPT web application to view a summary.
7. Talk-to-ChatGPT
ChatGPT's lack of voice input support is another limitation that can be remedied with an extension. Talk-to-ChatGPT allows you to speak queries and hear ChatGPT's responses audibly. Once installed, the extension adds a Start icon to the ChatGPT web app's upper-right corner, which you can use to launch the application.
It will then listen to all audio inputs and speak the response. You can alter the voice settings and configure the information to be manually triggered. The answer will still be audible even if you do not use speech-to-text and instead type the query.
If you prefer a more straightforward extension for this purpose, Prometheus is an excellent choice. You can input audio by holding down the spacebar.
8. ReaderGPT
ReaderGPT uses ChatGPT to generate summaries similar to YoutubeDigest, but instead of YouTube videos, it works with text-based content such as blog posts. The extension provides summary creation prompts. There are numerous example prompts available for use within the settings.
You can obtain a summary in bullet points, a few-word paragraph, or even in simplified English. You can also modify the example prompts to suit your needs. All resumes are generated within the extension's interface; you can refresh it to view a new one every time.
While we are still discussing summarizing extensions, Tactiq is a summarizing extension that functions with video conferencing applications such as Zoom, MS Teams, etc.
9. Copy for Chat GPT
A very straightforward extension for copying ChatGPT responses without highlighting each one. Copy for Chat GPT appends an icon next to each reaction in the ChatGPT web application that, when clicked, copies the answer to the clipboard.
Moreover, it automatically processes the text through chatbot plagiarism-checking tools to determine whether or not the content is flagged as plagiarized. In my experience, it also checks for plagiarism much more quickly than online tools.
This extension is required if you use ChatGPT responses online for any other purpose.
10. WritingMate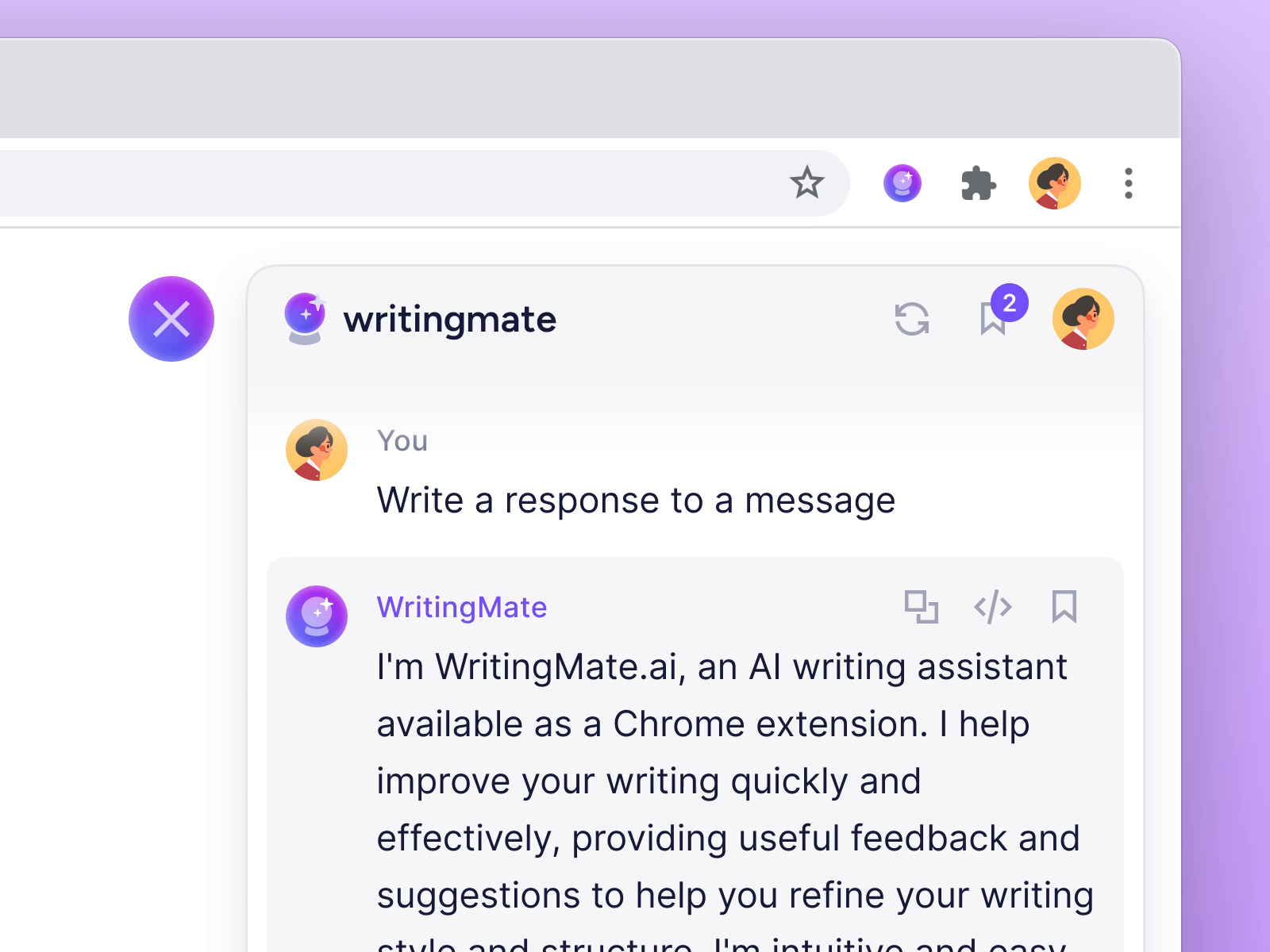 As its name suggests, WritingMate addresses all of your writing requirements. It can assist you in composing Tweets, product descriptions, job descriptions, blog introductions, and even entire blog entries.
To use the extension, a WritingMate account must be created. First, it will ask you questions to determine your writing requirements and then recommend templates based on that information. Enter a topic and select the desired template to receive written content.
The extension's free edition is limited to 10 messages per day. For unlimited use, you must purchase the premium version, which also permits the creation of lengthy posts.
Conclusion on Chrome Extensions for ChatGpt
Among the group, Superpower It provides simple access to the prompts that make ChatGPT so powerful, and thus my favorite extension. Copy for Chat GPT, Talk-to-ChatGPT, and WebChatGPT are essential if you routinely use ChatGPT, as they provide some of the most requested features absent in ChatGPT.
If you find ChatGPT too restrictive, several feature-rich and not-restricted ChatGPT alternatives are available.