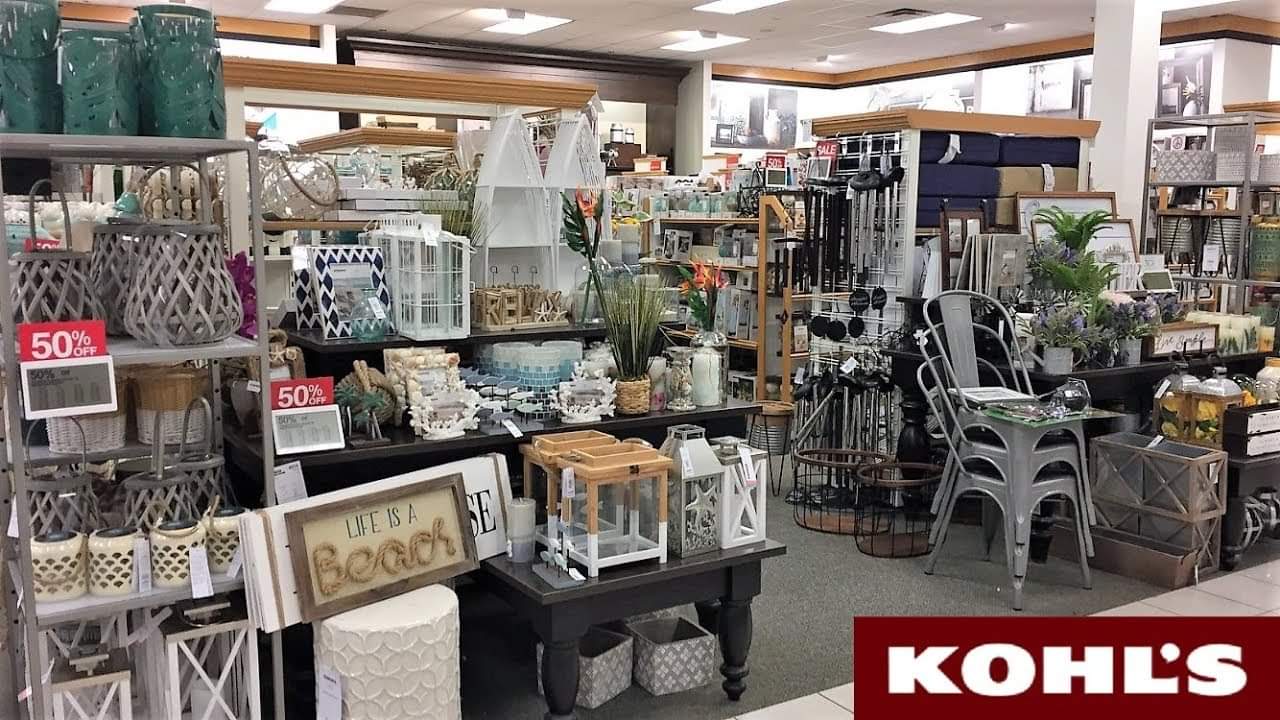 Isn't it astounding how a bright-colored ottoman stool can add vibrancy to your living area? Or ho a console table with a contemporary sculpture on it can change the whole vibe of your room. We love accent furniture and craft items that add value and help us accentuate our home décor. That being said, it is equally strenuous to find such accent pieces at budget-friendly prices.
The majority of home improvement and décor stores are practicing daylight robbery with their sky-high prices. However, we have found that Kohl's has us covered at this as well. We all know how inclusive and massive Kohl's is, with almost everything under its roof. Guaranteeing durability and exclusivity. Only with Kohl's promo code can we get our hands on items that are both decorative and modish. If you aren't aware of how Kohl's extensive collection of home accessories offer accents and décor, worry not! We are here to help you explore.
Cameron Console Table
If you are naïve at furniture, you may not know what a console table is. Ever seen a medium size table with compartments and drawers with an ornamented front in a relative's hallway? Well, that piece of furniture is called a console table. Kohl's has a range of furniture by Sonoma, the Cameron console table is a top-seller. Available in five woodsy colors and a planked tabletop. The brilliant part is the woven basket as drawers.
Not only are these more spacious but the material minimizes the scratch and damage chances. The wood veneer and rubberwood keep the exterior shiny and the console table makes for an excellent addition in our hallways or living area. We recommend you place the sofa in your living area just beside the table, to accentuate the look.
Related: Implement Smart Technology To Manage Property
Armoire Floor Cabinet
For the ones with an intimate place with fewer spaces, the Armoire Floor Cabinet is a lifesaver with added grace. The floor cabinet is a stand-alone organizer for all your jewelry and other stuff. We love how compartmentalized the shelves are. Each bar serves a purpose. From ring holders to a 12 hook necklace bar and a stunning giant-size front mirror, the floor cabinet will have jewels organized like never before.
We, girls, know how heart-wrenching it is when our chains get tangled and mini-size locks for earing get lost. All these issues are resolved with the Armoire Floor Cabinet available in 2 different colors at Kohl's. If you are into vertical accents, we suggest you get New View Black Finish Jewelry Armoire Floor Cabinet. The vertical, stand-alone mirror on two legs, not only looks stunning but has a full organizer inside. It's a two-in-one product. And with Kohl's promo code it's for half the price.
Madison Park Ottoman
We are forever thankful and in awe of the Ottoman Empire's interior designers for blessing us, the latter generations with vintage-looking aristocratic crafts. Ottoman stools are one of the blessings. There is something so imperial about these stools, that no matter you get these in vibrant colors or solid textured prints, they look gallant. Kohl's has Madison Park's Ottoman stools in a contemporary style, in the color blue and gray.
The imported foam filled in these polyester fabric seats makes them super comfortable. Customers love the steel design of legs that have hairpin details. And can hold up to 250+ lbs. With Kohl's promo code, get two of these. Or you can get the voguish, ultra-modern design of these ottoman stools with storage capacity and exotic color patterns. The Safavieh Carter Round Storage Tray Ottoman provides a leather lid comfort and by removing the seat, you can make use of the lid as a serving tray. We love the off-white colored one.
Travertine 3-Tier Plant Stand
Have you been looking for a planter but a newfangled one? Well, look no further. Kohl's has a Travertine planter with a 3-tier stand. The antiquate Tuscany finishing looks ravishingly beautiful and adds so much attraction. The metal planters are for outdoors but can also be placed near a window in your living area. They come with a one-year warranty. And make for beautiful addition in your green areas.
The plant stand collection at Kohl's is alluring, we love the Stratton Décor Soho Metal Plant Stand with golden legs and a giant plant holder. If you are looking for a more contemporary and modern décor addition, you will surely love the Modern Plant Stand by Stratton Home Decor. The metal wood in color white and insider bronze gold is stunning. If you don't have a green thumb, don't worry. Kohl has a whole section dedicated to faux greenery and flowers.
Related: Why Should You Buy Credit  Debit Card Insurance Plans?
Accent Chairs
Nothing adds more value and instant vibe changes better than accent chairs. They're called so for a reason. Brilliantly creating a difference in seating and another décor while standing out for their exuberant designs, Maddison Park's accent chairs are a must-add. Available in sophisticated, imperial throne designs as well as sleek styles. The wooden frame filled with upholstery polyester makes these chairs comfortable.
We love the curve-edged design and printed cover on these chairs. For a plushier cozier vibe, you may want to get your hands on the Safavieh Evan Bicast Leather Armchair. Not only do these prioritize comfort but add a regal vibe wherever placed. They look best when placed in a study area or near a bookshelf. With Kohl's promo code, you can get two of these accent chairs along with a Madison Park Signature Helena Round Table. The dark wood color compliments the chairs and doesn't require a lot of space.
Ortega End Table
You may not know what an end table is unless you have added one to your home and seen the difference they make and the value they add. To add a completely different small table that doesn't go with your overall furniture theme but looks stunning at a corner are the end tables. End tables usually serve the purpose of holding planters and key holders. If you are looking for one such beautiful addition, the Madison Park Ortega End Table at Kohl's will do you good.
The tempered glass on top keeps the furniture scratch-free, and the scalloped edge design in colors wood brown and white look modish. With Kohl's promo code, you can also get your hands on the Nestling table set which has 3 slates and the metalwork with bob pin legs can hold planters and other small décor pieces. The table comes with a one-year guarantee at Kohl's. We hope this article helps you find items that add value to your home and are stunning additions!