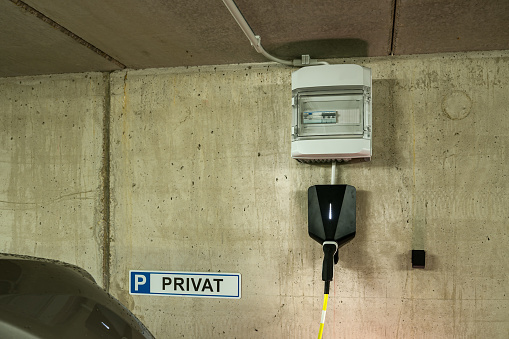 Electric Charging Is it safe to charge a car by inserting it into a household ordinary electrical socket? There are many questions in the minds of ordinary citizens in this regard, the answers to which you will find in this report. The car can be charged at home with only three phase electricity meter and the car charger will take as much electricity as the air conditioner. The amount can be achieved in 75 minutes. You may need 24 hours to charge at home and you will be able to drive in the morning only after charging all night. But for home charging you will need a "wall box". Which will not only provide safe charging but will also reduce the cost.
** Answers to some questions regarding charging of electric vehicles.
← Which "wall box" would be better
There are two types of wall boxes available, one that charges plug-in hybrid vehicles and the other that only charges e-cars. Choose the wall box according to your vehicle.
Related: The latest models of German Volkswagen in Pakistan
← What are the benefits of 'Wall Box'
Wall boxes can charge a car battery at high speeds. A 30 kWh battery with a power of 2.7 kWh and 10 amps takes 10 hours to charge. Charging a battery from a home socket is dangerous. Ten to twelve hours of continuous charging can burn weak wires and other household items. But an 11-kilowatt wall box will charge the battery in three stages, which is relatively safe. A 22-kilowatt wall box can also charge faster. However, experts say that the 11 kW wall box is the best.
← Is every wall box safe for every e-car
Yes. Every electric car is safe to charge, but many brand-conscious drivers prefer a specially designed wall box for their car. The plug problem is gone as far as Europe is concerned as Europe has made the type two plug (mancase plug) the standard and the same plug is installed everywhere.
Related: India announces incentives to boost eco-friendly car industry
← What is the price of wall box
The wall box alone costs about 400 euros (80,000 Pakistani rupees), but you have to keep in mind the cost estimate of around 0025 euros. Because the company's specialist will come home and fit it in the place you want and if there is no three phase connection then there may be some other expenses for it. And if you want a wall box operated from a smartphone then its Add a few hundred euros to the price.
← Where to install wall box
Preferably the wall box should be installed in a garage or car porch but can be installed outside if there is a safe open space available outside the house. Protect from extreme weather. Experts say extreme heat or snow can slow down the charging speed of an electric vehicle.