Getting a tattoo can be a fun and effective way to show your love for a partner. However, choosing a design that matches your significant other's pers
Getting a tattoo can be a fun and effective way to show your love for a partner. However, choosing a design that matches your significant other's personality is essential. Whether you want a symbol, an animal, or a word, there are various ways to get matching tattoos that both of you will love.
Symbols of Commitment
Whether in a relationship or just dating, matching tattoos can be a great way to show your love for each other. Often, these designs are inspired by a special memory or activity the two of you have shared. Matching tattoos are also famous for couples with similar personalities and interests.
For example, a sun and moon design would work well if you are adventurous and extroverted, and the other is more cautious and introverted. The creative potential of matching tattoos is endless. You can incorporate words of love, song lyrics, quotes, poetry, or even a date or location that represents your relationship.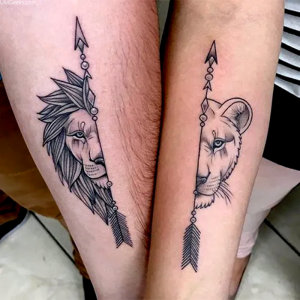 You can also create an infinity sign, which symbolizes your everlasting commitment to each other. This tattoo can stand alone or be incorporated into a more significant piece, like a wedding ring.
Related: An Introduction to Tattoos
Heart-Shaped Motifs
The heart is a well-known symbol of love and affection. It is a common motif in fine art and heraldry and can be found in popular emojis and text messages. Although the exact origin of the heart-shaped motif is unclear, several hypotheses have been proposed.
One is that it is derived from stylized ivy leaves associated with fidelity. Another is that it was modeled after the seed pod of a species of giant fennel, used in ancient Greece and Rome as an herbal contraceptive.
The symbol's popularity has long been associated with romantic love, a connection made especially strong by Valentine's Day in the 13th century. Jewellery featuring hearts was popular during this time and the Romantic Movement in the Victorian era.
King or Queen Tattoos
King or Queen Tattoos can be a great way to show the world that you and your partner are a robust and dedicated couple. They can be simple and tiny or have a more complex design that reflects your personalities, shared milestones, and commitment to each other.
Whether you are an extrovert or introvert, choosing a design that reflects your personality and what makes your relationship unique is essential.
The context and inspirations behind the tattoo are crucial to making it a meaningful, lasting piece of art. Typically, people prefer to get king and queen tattoos that are simple yet elegant.
Read More: 9 Crucial Skills for Successful Freelancing
Little and One-Of-A-Kind
If you are looking for something a little different and unique, consider getting a small tattoo that is truly one of a kind. These tattoos are often more expensive than flash designs on the wall, but they often carry greater meaning and symbolism. Some examples of small tattoos are arrows, flower tattoos, or geometric tattoos.
These designs may be small, but they are a great way to show off your skills as a tattoo artist and add personality to any outfit. With ink magic, you can have the perfect matching tattoo for your special day. Another creative idea is a matching tattoo representing a significant relationship moment.
This could be a birthday, anniversary, graduation, or even a significant life change. In any case, these small tattoos are a great way to express your love and devotion. The best part is that you can wear them for as long as you want.